Thomas, Thomas & Hafer LLP Welcomes a New Attorney, Kimberly M. Henderson, into the Firm
March 09, 2020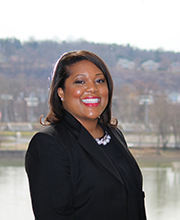 March 9th, 2020 – Thomas, Thomas & Hafer LLP is pleased to announce the hiring of Kimberly M. Henderson, Esq. Ms. Henderson will be working out of the firm's office in Harrisburg, PA. Ms. Henderson is an experienced trial lawyer who is part of TT&H Workers' Compensation practice group.
Ms. Henderson's previous position was that as an Assistant Public Defender for the Dauphin County Public Defender's Office. She has worked with representing clients in a variety of cases in all aspects of the legal process. Ms. Henderson has dealt with medical experts, witnesses and clients, at the same time preparing for trial. Ms. Henderson has experience mentoring and training new attorneys and interns while managing a high volume caseload.
Prior to the position as Assistant Public Defender, Ms. Henderson clerked for the Honorable John F. Cherry in the Dauphin County Court of Common Pleas in Harrisburg. While there she prepared briefs, legal arguments and statements of issue while including recommendations for the Judge on civil and criminal matters.
Ms. Henderson has work experience with small and large legal firms and brings her extensive trial background, writing and research skills to her position at Thomas, Thomas & Hafer, LLP.
Thomas, Thomas & Hafer, LLP is a regional civil litigation defense firm with over 80 lawyers in nine offices throughout the Mid-Atlantic region.