Attorney Candace Edgar wins jury trial in negligence action involving sandbag in parking lot of amusement park.
August 17, 2018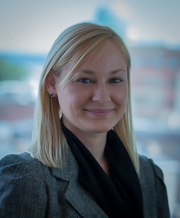 On August 15, 2018, TT&H Attorney Candace Edgar won a defense verdict for a well-known amusement park following a two-day jury trial in the Dauphin County Court of Common Pleas in Harrisburg.  The Plaintiff, a 60-year-old patron visiting the amusement park from New York, claimed that he tripped and fell over a sandbag allegedly left by one of the park's employees on the sidewalk of a tram stop in the parking lot. As a result of his fall, Plaintiff sustained a closed head injury and cerebral concussion. At trial, the jury heard conflicting testimony about who placed the sandbag on the sidewalk and the role, if any, it played in Plaintiff's fall. Following a brief deliberation, the jury found no negligence on the part of the amusement park or its employees.
Questions about this case can be directed to Candace Edgar, at (717) 237-7103 or cedgar@tthlaw.com.