Employment Law Seminar held on February 27th, 2019 at The Country Club of Harrisburg, PA.
March 12, 2019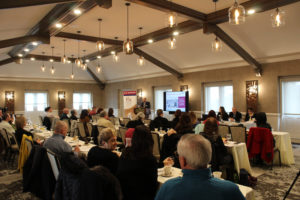 Harrisburg, PA February 27th, 2019 – Thomas, Thomas & Hafer LLP hosted an event for guests and clients at The Country Club of Harrisburg, PA. The event was well attended. It was also broadcast live with a private link over the internet to audiences across the state and across the country.
The event was organized by Anthony T. Bowser, Esq. Anthony welcomed the audience and introduced a panel discussion on "Employment Law – Year in Review." Conducting the panel discussion were David L. Schwalm, Esq., David covered Pennsylvania law updates, E. Meredith Wolak, Esq., Meredith covered Maryland law updates and Chloe E. Gartside, Esq., Chloe covered New Jersey law updates.
Following this was a session on "Best Practices for Addressing Sexual Harassment in the #MeToo Movement." This was presented by Anthony T. Bowser, Esq. Mark R. Hamilton, Esq. spoke on the topic of "Pregnancy Discrimination" followed by Anthony T. Bowser, Esq. speaking on "Considerations in Settling Employment Cases."
"Best Practices Before the EEOC" was given by Dana R. Hutter, Esq., Systemic Manager at EEOC U.S. Equal Employment Opportunity Commission. Closing the conference were Corbett L. Anderson, Esq., Chief Deputy Attorney General, and Christopher S. Hallock, Esq., Deputy Attorney General discussing "State Level Enforcement – Pennsylvania Office of Attorney General."
Any questions about the conference can be directed to Anthony T. Bowser at (717) 441-3959 or email at ABowser@tthlaw.com.