Joe Holko wins defense verdict for prominent law firm.
February 13, 2018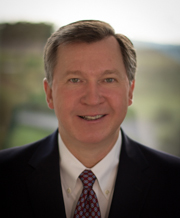 After nearly six years of litigation, a jury in Columbia County returned a verdict in favor of a prominent law firm, finding it was not negligent in connection with a trip and fall on a crooked sidewalk in front of the law offices. The sidewalk had been made irregular by a combination of tree root growth, frost heave, and recent municipal construction that changed the profile of curbing near the old sidewalk.
The Plaintiff claimed that her fall resulted in injuries to both knees, requiring arthroscopic surgery to repair damage to her menisci. Plaintiff also underwent an arthroplasty to the basal joint of her right hand, which then developed RSD/CRPS-like symptoms, requiring acupuncture and the use of opiates and other medications. Plaintiff appeared at trial using a cane and orthotics on her hand/wrist and knee. Her orthopedic surgeon testified that all of her surgeries were caused by her fall. After two days of trial, the jury disagreed with the Plaintiff, finding that the Defendant-law firm was not negligent.
Questions about this case can be directed to Joe Holko, at (610) 332-7005 or jholko@tthlaw.com.