Thomas, Thomas & Hafer, LLP Elevates Caroline E. Gentilcore to Partner
September 28, 2020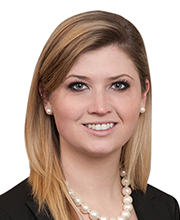 Thomas, Thomas & Hafer, LLP is proud to announce that it has elevated Caroline E. Gentilcore to the position of partner.  Caroline is an attorney in the Firm's Philadelphia office, where she exclusively defends workers' compensation claims on behalf of employers and insurers in southeast Pennsylvania and throughout New Jersey.  You can view Caroline's profile here.
Burke McLemore, Chair of the firm's workers' compensation practice group, observed: "Caroline is an outstanding attorney. This elevation recognizes the outstanding service that she has provided to our clients and our firm."
Caroline received her law degree from Villanova University's Charles Widger School of Law in 2013, and her undergraduate degree from Ursinus College in 2009.  Caroline currently is the Co-Chair of the Workers' Compensation Section of the Philadelphia Bar Association.
Thomas, Thomas & Hafer, LLP is a civil litigation defense firm with approximately 80 lawyers in ten offices throughout the Mid-Atlantic region.