TT&H Supports U.S. Marine's "Toys for Tots" Program.
December 18, 2019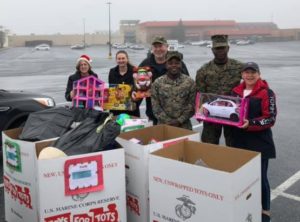 December 18th, 2019 – The law office of TT&H in Harrisburg participated in the 2019 United States Marine Program by donating over 190 brand new toys for their "Toys for Tots" effort.
The mission of the Harrisburg PA U.S. Marine Corps Reserve Toys for Tots Program is to collect new and unwrapped toys from October through December each year, and distribute those toys as Christmas gifts to needy children in the Harrisburg, PA area.
In 2018 over 36,200 toys were collected and distributed to over 11,600 children. This year's Harrisburg, PA Campaign will be distributed with the help of the hard-working members of local non-profits groups.
TT&H Chief Executive Partner, Ed Jordan, commented "We participate in this program supported by our United States Marine's and each year we strive to contribute so families in need will share in the spirit of the holiday season."
Thomas, Thomas & Hafer, LLP is a regional civil litigation defense firm with over 80 lawyers in nine offices throughout the Mid-Atlantic region.