Attorney Lauren Upton wins dismissal of negligence action via motion for summary judgment.
February 25, 2020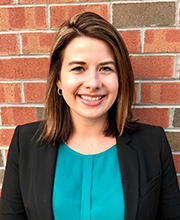 Lauren Upton, an attorney in TT&H's Baltimore office, recently won the dismissal of a negligence action resulting from a car accident.  The action, which had been filed in the Circuit Court for Baltimore City, was brought against the registered owner of the involved vehicle under a theory of agency.  The Plaintiff had alleged that the driver of the vehicle involved in the accident was an employee and/or agent of the Defendant.
Lauren was able to win summary judgment for the Defendant.  She established that he had sold the involved vehicle to the driver about a month prior to the accident, though the new owner had failed to register the vehicle after purchasing the same.  Lauren convinced the Court that, under the circumstances, the Defendant had rebutted the presumption that the driver was acting as his agent and/or employee and that he was the owner of the vehicle at the time of the accident.  In granting Lauren's Motion, the Court noted that the evidence was unequivocal that the driver was not the Defendant's agent and/or employee.
Questions about this case can be directed to Lauren Upton, at (443) 641-0572 or lupton@tthlaw.com.