Team TT&H Participates in Westminster American Insurance Company's Eagle Run 5k to Help End Hunger
January 13, 2021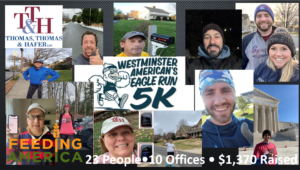 Westminster American Insurance Company recently sponsored a virtual 5k to raise money for Feeding America.  The inaugural event was named the "Eagle Run 5k."  Registrants were given from mid-November until December 31 to walk, jog, or stroll their 5k.  Twenty-three people from all ten of Thomas, Thomas & Hafer, LLP's offices participated, raising $1,370 for the cause.
Todd Narvol, who is TT&H's Chief Financial Partner and who participated in the event, commented, "This team effort is yet another example of how our firm not only is committed to its clients, but also is committed to the communities where it services those clients."
Feeding America supports a network of food banks across the nation in furtherance of its mission to help end hunger.  Feeding America estimates that over 54 million people in America will face hunger this year, and reports that every $1 donated helps provide at least 10 meals.
Thomas, Thomas & Hafer, LLP is a regional civil litigation defense firm with approximately 80 lawyers in ten offices throughout the Mid-Atlantic region.