Thomas, Thomas & Hafer LLP Welcomes a New Attorney, Brian C. Wauhop, into the Firm
February 01, 2019
February 1st, 2019 – Thomas, Thomas & Hafer LLP is pleased to announce the hiring of Brian C. Wauhop, Esq. Brian will be working out of the firm's Harrisburg office.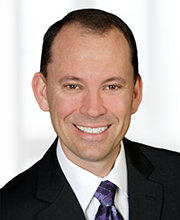 Brian C. Wauhop applies his experience appearing before various state agencies and state and federal courts to defending clients in liability matters.   In addition to liability defense, Brian's experience spans a broad spectrum of legal concerns including environmental matters, public utility issues, real estate, contract matters, workers' compensation and corporate shareholder disputes.
With past experience in the corporate sector, Brian applies the business management skills and customer-focused mindset he gained to serving his legal clients. He has insights into solving complicated and time-sensitive problems that present multiple, competing goals. His big-picture understanding of a legal issue enables him to advise clients in a timely and comprehensive manner.
Originally from Belvidere N.J., Brian, his wife and son enjoy outdoor activities, including hiking, camping and biking. Brian is an avid fly fisherman. Musically inclined as a drummer and singer, he enjoys a wide variety of musical genres.