Thomas, Thomas & Hafer LLP Welcomes a New Attorney, G. Richard Murphy, into the Firm
April 15, 2019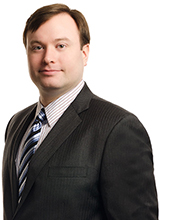 April 15th, 2019 – Thomas, Thomas & Hafer LLP is pleased to announce the hiring of G. Richard Murphy, Esq. Mr. Murphy will be working out of the firm's Pittsburgh office.
Mr. Murphy joins TT&H from a commercial litigation firm where he concentrated on complex commercial and business litigation, which includes experience involving business contracts, fiduciary duty, intellectual property, product liability, securities, arbitration, insurance, real estate, financial services, technology and employment law.
In addition to his extensive litigation experience, Mr. Murphy is skilled at handling cases of a complex technical nature by applying his expertise from his science background in astronomy and astrophysics.