Thomas, Thomas & Hafer LLP Welcomes a New Attorney, Lauren M. Upton, into the Firm
September 03, 2019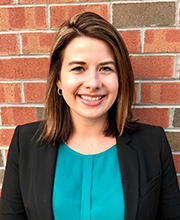 September 3rd, 2019 – Thomas, Thomas & Hafer LLP is pleased to announce the hiring of Lauren M. Upton, Esq. Ms. Upton will be working out of the firm's Baltimore, MD office.
Lauren comes to Thomas, Thomas & Hafer from the Maryland Judiciary where she was a Judicial Law Clerk to the Honorable Joseph M. Getty at the Maryland Court of Appeals. Prior to this position, Ms. Upton was a Judicial Law Clerk for the Honorable Paul J. Hanley at the Circuit Court of Baltimore County.
During law school, Ms. Upton clerked for the United States Attorney's Office in the Middle District of North Carolina where she conducted legal research on federal criminal and civil matters, assisted with drafting of position papers and appellate materials, and participated in sentencing hearings; change of pleas; and arraignments.
Lauren will be utilizing her outstanding legal skills in the General Liability group.