Thomas, Thomas & Hafer LLP Welcomes a New Attorney, Stephanie A. Walczak, into the Firm
March 11, 2019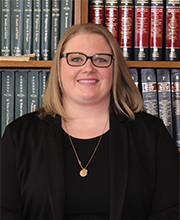 March 11th, 2019 – Thomas, Thomas & Hafer LLP is pleased to announce the hiring of Stephanie A. Walczak, Esq. Ms. Walczak will be working out of the firm's Allentown, PA office. Ms. Walczak will focus her practice on Workers' Compensation defense.
In her legal career, Ms. Walczak has attained extensive litigation experience, having represented both Plaintiff and Defendant in civil cases, including attendance at settlement conferences, case management hearings, oral argument, depositions and trial.
Ms. Walczak brings a wealth of litigation skills with her and will apply them in the defense of Worker's Compensation matters for the firm's clients in our Allentown office.