TT&H Attorney Jim Pyrah wins unanimous defense verdict in Lackawanna County negligence action.
March 05, 2020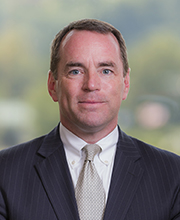 Attorney Jim Pyrah recently won a unanimous defense verdict following trial in Lackawanna County.  The Plaintiff had claimed that he was walking his dog a few blocks from his house when he was struck by the bumper of a snack delivery truck operated by his neighbor.  The Plaintiff claimed injuries to his hip and knee and he ultimately underwent a right hip replacement.
Jim's client, the snack delivery truck driver, not only denied any negligence on his part, but he denied that his vehicle even made contact with the Plaintiff.  During the course of the litigation, Jim was able to establish a long history of complaints made by the Plaintiff regarding his neighbor's use of the truck at issue.  These complaints included prior threats that he would file a lawsuit and make his neighbor's life "a miserable living hell," the most recent such complaints coming just a month before suit was in fact filed.  After deliberating for a matter of mere minutes, the jury returned with a unanimous finding of no negligence on the part of Jim's client.
Questions about this case can be directed to Jim Pyrah, at (570) 820-0240 ext. 8602 or jpyrah@tthlaw.com.