TT&H Attorney Mark J. Powell Appointed to Dauphin County Bar Association Board of Directors
February 02, 2021
A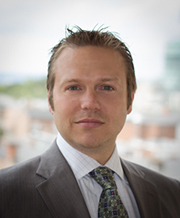 ttorney Mark Powell has been appointed, for a two-year term, to the Board of Directors of the Dauphin County Bar Association.
Kevin McNamara, who is one of Thomas, Thomas & Hafer's managing partners, said "With Mark's contributions to its leadership, the Dauphin County Bar Association is in good hands.  Mark is a dedicated professional and family man who will do a great job for the DCBA."
The Dauphin County Bar Association has over 1500 attorney members and provides numerous activities throughout the year that keep Bar Association members up-to-date on developments in the law by hosting Continuing Legal Education seminars and other informational programming, as well as providing service to the community with a very active lawyer referral and pro bono program.
Dauphin County is located in Central Pennsylvania and is home many points of interest such as Hersheypark and the Penn State Milton S. Hershey Medical Center.  Harrisburg, which is the County seat and state capital, is also located in Dauphin County.
Mark is a partner in the Firm and helps to lead the workers' compensation group in the Harrisburg office.  Mark can be reached at mpowell@tthlaw.com or 717.255.7645.
TTH is a regional civil litigation law firm with over 80 lawyers in 10 offices throughout the Mid-Atlantic region.