TT&H Gives Back
December 17, 2019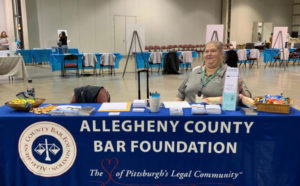 December 17th, 2019 – Thomas, Thomas & Hafer, LLP ("TT&H") attorney, Rebecca Sember Izsak, along with representatives from the Pittsburgh's Neighborhood Legal Services, participated in the Alleghany County Bar Foundation's Annual Legal Advice Table as part of the Urban League's Thanksgiving Distribution.  The event was held on Saturday, November 16th, 2019 at the David L. Lawrence Convention Center in Pittsburgh, PA.
TT&H's Chief Executive Partner, Ed Jordan, commented, "We are proud of Rebecca's volunteer efforts.  Rebecca's efforts are yet another example of how our firm not only is committed to its clients, but also is committed to the communities where it services those clients."
Rebecca is a partner in TT&H's Pittsburgh office.  Since 2015, Rebecca has been a Fellow in the Allegheny County Bar Foundation, whose mission is to provide educational and charitable support in activities related to the law.
Thomas, Thomas & Hafer, LLP is a regional civil litigation defense firm with over 80 lawyers in nine offices throughout the Mid-Atlantic region.