Thomas, Thomas & Hafer LLP, 8th Annual General Liability Round Table Conference held on October 25th at the Hollywood Casino at Penn National Race Course in Grantville, PA.
October 31, 2018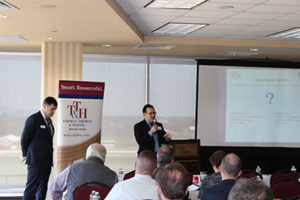 Harrisburg, PA October 25th, 2018 – Thomas, Thomas & Hafer LLP hosted an event for guests and clients at the Hollywood Casino at Penn National Race Course in Grantville, PA. The event was well attended. It was also broadcast live with a private link over the internet to audiences as far away as Ohio.
Todd B. Narvol, Esq. welcomed the conference audience with opening remarks. Topics covered were "Working with Engineering Experts in Litigation", presented by S. Joseph Cardile, Esq. and Gavin D. O'Hare, CED Technologies. Dr. Donald P. Masey, Clinical Associate Professor, Department of Psychology at the Philadelphia College of Osteopathic Medicine conducted a presentation on "Evaluating Psychiatric Illnesses with a focus on Post-Traumatic Stress Disorder (PTSD)" with Mark Hamilton, Esq.
"What's New in Case Law? A Review of the Good, the Bad and the Ugly in VA, MD, NJ, WV, PA and DC" was a panel discussion on the latest in Case Law presented by Joshua J. Bovender, Esq., Christopher M. Gallagher, Esq., Gregory C. Kunkle, Ph.D. Esq., Thomas E. Zumpella, Esq., and Peter C. Biberstein, Esq.
The Retail, Restaurant and Hospitality Practice Group presented on "Automation in the Retail World, Mass Injuries and Legal Update" presented by committee co-chairs Rebecca Sember Izsak, Esq. and Ryan C. Blazure, Esq. with case law updates presented by Brook T. Dirlam, Esq., Paraskevoula V. Mamounas, Esq. and Candace E. Edgar, Esq.