Thomas, Thomas & Hafer LLP Attorneys Ben Peoples and Michael Burgoyne win defense verdict for Towson, MD bar following a stabbing incident.
March 30, 2017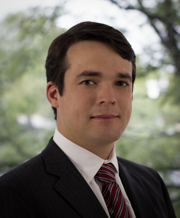 On March 28, 2017, Attorneys Charles "Ben" Peoples and Michael Burgoyne obtained a defense verdict in the Circuit Court of Baltimore County, Maryland. The verdict came after a six-day jury trial presided over by Judge Robert Cahill, Jr. The negligence action was brought against a local bar after the Plaintiff was stabbed twice by another patron. The Plaintiff claimed that the bar was negligent in failing to prevent the incident, particularly as it had confiscated a knife from the same assailant on two prior occasions in the weeks leading up to the incident. Following the six-day trial, the jury rendered a defendants' verdict after concluding that the Plaintiff was contributorily negligent.
Questions about this case can be directed towards Ben Peoples, at (202) 904-2362 or cpeoples@tthlaw.com.