Thomas, Thomas & Hafer LLP Welcomes a New Attorney, Christopher L. Scott, into the Firm
May 06, 2019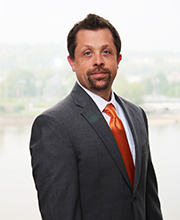 May 6th, 2019 – Thomas, Thomas & Hafer LLP is pleased to announce the hiring of Christopher L. Scott, Esq. Mr. Scott will be working out of the firm's Harrisburg office.
Mr. Scott joins TT&H with an extensive background in the field of Workers' Compensation, Employment Law and General Liability practice. Mr. Scott represented numerous employers and insurance carriers in worker's compensation, employment and civil matters.
For his work in the field of worker's compensation, Mr. Scott has been named to the list of Pennsylvania Super Lawyers Rising Stars. Mr. Scott has litigated a variety of civil cases spanning a wide range of practice areas over his career.