Thomas, Thomas & Hafer LLP Welcomes a New Attorney, Christopher M. Gallagher, into the Firm
August 24, 2018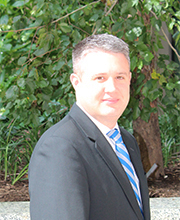 August 20th, 2018 – Thomas, Thomas & Hafer LLP is pleased to announce the addition of Christopher M. Gallagher as a new attorney to our firm. Christopher is an Associate in the Philadelphia office. Mr. Gallagher He comes to the firm with more than 13 years of legal experience and more than 25 trials litigated to verdict.   Chris's practice focuses on the defense of general liability, insurance coverage and bad faith matters.
Chris practiced for more than 11 years in the state of Connecticut where he specialized in civil litigation with an emphasis on personal injury and complex property insurance litigation.   Before joining the firm, Chris oversaw the litigation of professional liability claims throughout the country on behalf of various insurance carriers.
Chris is admitted to practice in Connecticut and Pennsylvania.  He received his B.A. from the University of Scranton and his J.D. from Quinnipiac University School of Law.