TT&H Attorney Lacey Conn wins summary judgment in multi-million dollar Consumer Protection Act case.
March 13, 2020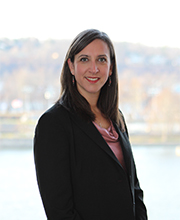 Earlier this month, TT&H Attorney Lacey Conn won summary judgment when the DC Superior Court granted a Motion for summary judgment she had filed in October of 2018.  Lacey's client, a condominium association, had held a foreclosure auction for one of its condo units because of the owner's failure to pay the condo fees.  The Plaintiff bought the condo at auction and put down a $10,000 deposit.  After the auction, but before closing, the condominium association determined that notice of the foreclosure sale was defective and cancelled the sale, returning Plaintiff's deposit.  Plaintiff sued for the value of the condo at the time that he would have closed ($464,000), while also seeking treble damages and attorney's fees under the DC Consumer Protection Act.  All told, the Plaintiff sought damages of more than $2,000,000.  In successfully moving for summary judgment, Lacey argued that Plaintiff's sole remedy was the return of the deposit, which had already taken place.  Plaintiff had filed a cross-motion for summary judgment which was denied.
Questions about this case can be directed to Lacey Conn, at (202) 945-9502 or lconn@tthlaw.com.